An overly busy mind can be a distraction from our daily grace walk. Some people can't even sleep well at night because of all the thoughts running through their minds. They're thinking about all that happened during the day; thinking about their plans for tomorrow; thinking about childre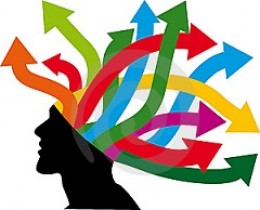 n, finances, past mistakes, future plans. Some even have imaginary conversations with people, picturing what they'll say if this happens or if that happens. Sometimes they even rehearse conversations of the day thinking about what they should have said. Thinking, thinking, thinking!
Do you sometimes find yourself in a similar situation? It's not uncommon. Jesus even told His disciples on more than one occasion, "Take no thought." His instructions literally meant, "Don't take on the least bit of anxiety." Nothing drives away our sense of peace more than over-thinking things. An overactive mind can keep you awake at night, leaving you tired during the day. It can prevent you from being able to stay focused on things that need your attention. It can cause you to start and then stop one project after another before you have completed them. It can cause you to wonder about your relationships to people, security in your circumstances, stability about your future and even negatively affect how your perceive your relationship to God. The reason Jesus cautioned His disciples about it is because He knows the extent to which a busy mind can debilitate us in our grace walk.
It doesn't have to be that way. You aren't helpless over the thoughts that may bombard your mind. You might not be able to control what thought appears in your consciousness but you can decide what you're going to do with it. The Bible tells us to bring every thought under the control of Christ. Paul wrote, "We are destroying speculations and every lofty thing raised up against the knowledge of God, and we are taking every thought captive to the obedience of Christ" (2 Corinthians 10:5) You don't have to be swept along by involuntary thoughts that flood your mind but instead can choose what to do with them as they come.
A busy mind can be the result of divided loyalties. The more you understand how much God loves you and the more you learn to find contentment in that fact, the easier is will become to properly handle the thoughts that flood your mind. It is important to nurture yourself with the constant affirmation and realization of your Father's love and care in every area of life. Anything important to you is important to Him.
Paul brought his letter to the Philippian church to a close by instructing them about controlling their minds. He wrote, "Finally, brethren, whatever is true, whatever is honorable, whatever is right, whatever is pure, whatever is lovely, whatever is of good repute, if there is any excellence and if anything worthy of praise, dwell on these things" (Philippians 4:8). You can decide what you think about and set your mind in a way that peace will be your companion.
You can trust your way through your day or try to think your way through your day, but you'll soon learn that the first approach is far less stressful. Relentless reasoning about your circumstances is an independent way of trying to understand how to control your own life and we humans weren't created to live independently. Your Father's intent is that you learn to live in dependence on Him.
The mind must be brought in subjection to Him at each moment. It's not something you decide to do one time and then it is never a problem again. It is important to live each moment in surrender to Him. It's not something that you have to consciously do. It can be the default setting you set for yourself each day.
That doesn't mean a barrage of thoughts won't ever rush in on you, disturbing your peace. While it may not be possible for you to silence thoughts that flood your mind at times, you can consciously submit the thoughts to Him when those moments arise. As you grow in His grace and develop the habit of submitting a hyperactive mind to Him, He will bring growth to you and you'll find rest for a busy mind while you increasingly learn about continuously giving the details of life to Him.
There will always be outside influences that seek to invade your thoughts and shift your focus away from Christ. When your mind runs wild, simply submit it all to Him. It's a choice you make. Some things in life you just aren't going to be able to think your way through so you might as well save yourself the stress by simply trusting your way through them. We want answers now, but answers don't always come when we want. Learning that fact can bring tremendous peace to your life.
In Isaiah 26:3, the Bible says, "You will keep in perfect peace all who trust in you, all whose thoughts are fixed on you!" (NLT) The key to managing a barrage of thoughts is to set your mind on God. It is impossible to stare into His loving face and be obsessed with the threatening nature of your troubles at the same time. One glimpse into the face of the One who loves you more than you've ever been loved will assure you that He superintends the details of your life.
The matter that brings you stress will most assuredly be solved by your Father. Until that time comes, rest in His goodness and grace. Direct your mind to Him and His goodness and love toward you. As you develop the habit of simple faith in His grace, you will experience peace. It is a peace that can only come when we keep our minds on Him.
This article came from The Grace Walk Devotional, available at http://www.gracewalkresources.com/product/grace-walk-devotional