I love Norman Rockwell paintings. He was known for his illustrations of everyday life in the days of my boyhood. When I look at his paintings, they alway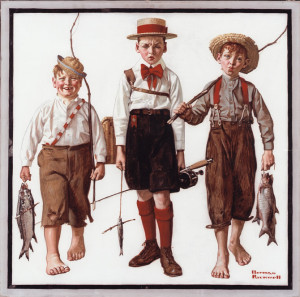 s bring a smile to my heart, if not to my face. There is a pure, innocent simplicity about his work that resonates of days gone by when life seemed stable and predictable and warm fuzzies abounded in the heart of our nation.
Times though, have changed. Normal Rockwell died in 1978. Sadly, it seems that for the most part he took the days he portrayed with him. Now we live in a Homer Simpson world. The "ahh's" of society seem to have been filled with a constant barrage of "doh's!"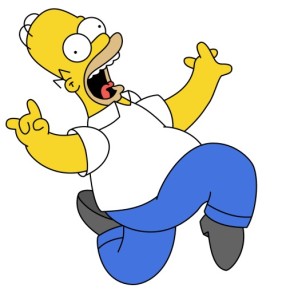 Boys like the Beav and Wally, from the old TV program, "Leave It To Beaver," respected their parents, girls, their teachers, their neighbors, and even God. Today Bart Simpson has disdain for his dad, is cleverer than his teachers, dismisses girls, mocks his neighbors and thinks God is a joke.
I know I must be getting old because I find myself thinking, longing for the good old days and wondering how on earth we've gotten so far off track. The fact is that it is what it is and we might as well learn to deal with it.
Times change. It's that simple. We can fight it or even deny it, but the world we live in isn't a stable place. Thank God, there is a corresponding truth that will sustain us. It's this: Times change, the world changes, but our God never changes.
My Heavenly Father is continuously reminding me that I still need to learn more completely who is in control and who isn't. He is and I'm not.  What a hard lesson that is to learn.  I know it, but I find myself still needing to know it. Are you like that?
The bottom line is that we cause ourselves needless stress and grief when we bring our Norman Rockwell expectations into the Homer Simpson world of our daily circumstances. No matter how much we want it to be, life is not a neatly wrapped package with the perfect bow on top. It's messy. It's scary at times.  It's unpredictable. And that goes against the grain of every fiber of our natural desire to be in control of our world.
What's the answer? It is to give up control. To admit that we're not in charge and never will be. To know that, as much as it is counter-intuitive to the way we've been programmed, grace shows up and shows off best in Bart Simpson's hometown, Springfield, not the Beaver's hometown, Mayfield.
It's not an easy pill to swallow, but it's the pill that will lead to spiritual rest and emotional stability.  The truth is that I saw Norman Rockwell through a child's eyes. It never was as idyllic as he portrayed. Homer Simpson has always lurked in the shadows of this world. This world is a roller coaster ride, at least from the human perspective. The reality is, though, that there is a God who loves us passionately and who has everything under control.
Grace will empower you to see beyond the disappointment and disillusionment of this world and cause you to see the divine reality that frames everything here. Seeing Him in your day-to-day routine will inspire and invigorate you. So yield your expectations to the divine decrees of the One who loves you more than you could ever imagine.