I recently read a story about a little boy whose pet cat was killed one day while he was in school. His mother was very concerned about how he would take the news.
When he got home, she explained what happened. The little boy turned away and began to cry. "Don't worry," the mother said reassuringly. "He's in heaven with God now." The little boy whirled on his mother and with desperation and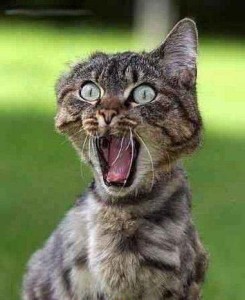 anger in his voice yelled, "What's God gonna do with a dead cat?"
That's how we all feel sometimes, don't we? We know God has the situation in His hands, but from our perspective the outcome seems final and the whole thing appears to have a finality to it that is completely unacceptable to us. Despite the fact that we know it's in His hands, we want to scream, "What's God gonna do with a dead cat?!" In other words, "Why did it have to end this way?"
Mary and Martha felt the same desperation when they buried their brother, Lazarus. Martha spoke for all of us during the times when our crisis doesn't seem to end with a miracle, but with a misery that screams despair into our emotions and thoughts. Martha said, "Lord, if you had been here!" Do you feel that way about situations in your life? Does it seem like there have been times when Jesus wasn't in town when you needed Him the most?
At times it is impossible to understand the divine reasoning behind God's actions or, more often it seems, His lack of visible action in our circumstances. In John 11, the Bible shows that Mary and Martha faced this very dilemma.
The text says, "Now a certain man was sick, Lazarus of Bethany, the village of Mary and her sister Martha. It was the Mary who anointed the Lord with ointment, and wiped His feet with her hair, whose brother Lazarus was sick. So the sisters sent word to Him, saying, "Lord, behold, he whom You love is sick." But when Jesus heard this, He said, "This sickness is not to end in death, but for the glory of God, so that the Son of God may be glorified by it." Now Jesus loved Martha and her sister and Lazarus. So when He heard that he was sick, He then stayed two days longer in the place where He was. Then after this He said to the disciples, "Let us go to Judea again."
The reasoning of Jesus in waiting two more days before coming to Bethany makes perfect sense to us now, since we know the whole story. God received greater glory by raising Lazarus from the death than he would have by healing him. That possibility wasn't one that would have occurred to these two sisters at all so how could it make sense to them? All they could see was that Jesus wasn't coming through for them when they needed Him the most.
We all feel like these two at times, don't we? You may have faced situations in your life where you have struggled to understand why your prayers about the matter seemed to be ignored. It seemed to you that, at a time when you most needed divine intervention, God was inactive.
In moments like that it is important to remember that your perspective is limited to what you can see at the moment. Mary and Martha couldn't imagine how their situation could possibly have a good ending, but God had one in mind all along. You can be assured that the same God who raised Lazarus from the dead is fully aware of your problems.
From your finite understanding you too may not be able to imagine how your situation could possibly end well, but remember this: You don't see things from the eternal perspective. Your Father does, so trust Him. He has not forgotten nor is He ignoring you.
There actually is an answer to the question, "What's God gonna do with a dead cat?" He may resurrect it. Dead things don't deter God. He can put life right back into something that is already dead. Hope isn't gone just because a situation appears to have ended.
God may not resurrect it, but may instead redeem it. In other words, He will use the disappointment and devastation of our lives to accomplish a greater purpose. We don't know what's good and what's bad for us. Only He does. What we do know is that our Father loves us. He isn't sadistic, but gently and tenderly loves us at all times. Never do we need to believe that more than when life makes no sense.
When circumstances spiral downward and God doesn't step in to change them, He can use the outcome in a positive way. We don't have to see how He plans to use it for that fact to be true. Faith means that we trust Him even when our senses tell us all hope is gone.
Our faith is in our God, period. Faith doesn't require believing that we will get what we want. Instead, it knows that we get what God wants and it is being willing to accept that and rest in it even if our emotions and thoughts argue.
So, "what's God gonna do with a dead cat?" Whatever He wants. His role is to be in charge. Ours is to trust.