I launched Grace Walk twenty years ago and have sought to be as transparent as a man can be about his life. I've confessed my fears, faults and failures as truthfully as I've known how as they have related to me. I have believed from the beginning that my life is my pulpit. I was open about it when I was diagnosed with a health problem that pretty much kept me home for ten months. I've spoken openly about my wife, Melanie, and her challenge with R.A. and with a degenerative spine. I've talked openly about my autistic grandchild, about my daughter's family's house fire that took everything. I've admitted my moments of depression about circumstances, my fears about ministry finances, my encounters with my critics and abandonment by friends because of my theological evolution.
But I've not talked publicly about everything. Not because I was unwilling but because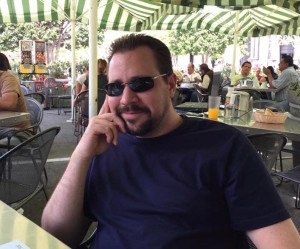 I couldn't. It wouldn't have been fair because to tell some things would require speaking of things that involve others. I suppose there may always be some degree of that in life because everyone of us is interconnected to other people who also have problems. Sometimes their problems and our own overlap. Sometimes they are the same. I can say something publicly now because he is saying it. My son, David, was addicted to alcohol. For a long time. It nearly killed him. The truth is that it runs in the family. Others have died from it. Family members we loved. It's hell to watch somebody die when you know it could have been avoided but such happens in the lives of families everywhere every day.
I will not presume to tell David's story because, even now, it is his to tell. I foresee a day when Dave and I will share openly about how his captivity shaped both our walks in profound ways, but that is another day. Today, I want you to meet David. The David I've known all his life, even when he didn't know him. A David, who like all, has made choices at times that were devastating on many levels. A David who, thank God, is not the man he used to be. (Or to be exact, "is not the man he appeared to be." He actually always has been the man he is today, but he was blind to it.)
Little by little David came to find himself consciously aware of the hell in which he lived – and I don't mean that metaphorically. So many live in hell everyday and David was one who did. On one fateful night, it all came crashing down on him and, in that moment, he encountered Love in a way he had never known before. In that place, Love uttered an eternal "ENOUGH!" and lifted him from the pit, setting his feet on solid ground. He has not been the same since.
Dave is beginning to write a blog, where he will discuss his journey. Like all of us, he is still in process and he is inviting others to watch and even walk the journey with him. He plans to write regular posts and even record video that he will post on YouTube. You can see his first blog post here:
http://davidmcvey.blogspot.com/2015/12/stay-gold.html?m=1
I'll allow him to say what he wants to say and I will simply shout with unbridled joy: "Bring the fattened calf, kill it, and let us eat and celebrate; for this son of mine was dead and has come to life again; he was lost and has been found" (Luke 15:23-24)